---
This Case Analysis is written by Tasneem Hussain Legal content writer at Lawyers Troop
---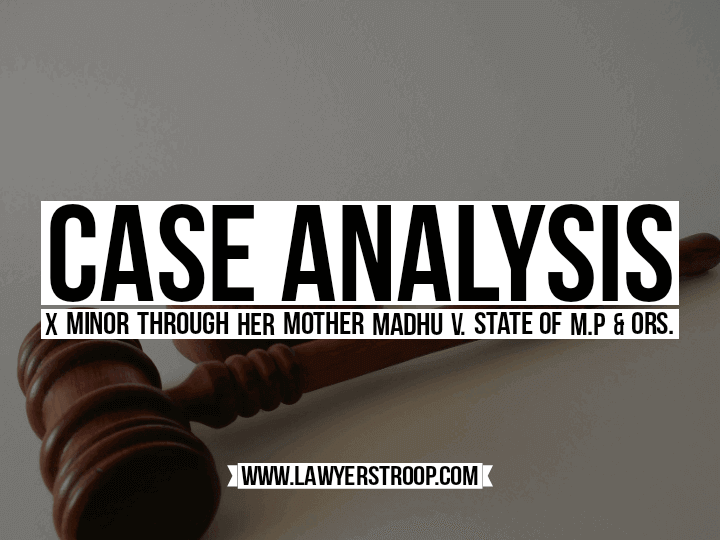 ---
Writ Petition No. 5521 of 2020
In the High Court of Madhya Pradesh
Bench: G.S Ahluwalia
Decided On: March 19, 2020
Title
A minor when gets pregnant due to sexual abuse and rape, shall have the right to terminate the pregnancy with consent of her guardian.
Relevant Statutes and Sections
Constitution of India, Article 226
Indian Penal Code, Section 363, Section 366A, Section 376(2)(n), Section 376D, Section 332, Section 294, Section 354A
The Protection of Children from Sexual Offences, 2002, Section 5, Section 6, Section 11, Section 12
The Scheduled Caste and Scheduled Tribe (Prevention of Atrocities Act), 1989, Section 3(1)(g, h), Section 3(1)(w), Section 3(2)
Medical Termination of Pregnancy Act, 1971, Section 3, Section 4, Section 5(1)
Facts
The petition is filed by a minor, aged 17, through her mother. An FIR was filed against Mr. Rahul, who on the pretext of marrying her, entered into physical relations with her and later refused to marry her. She became pregnant and was also insulted by his family. She filed this petition to request the termination of her pregnancy. On the direction of the Court, she has undergone medical tests which showed that she was 16 weeks pregnant and is fit for the termination of pregnancy with anaemia correction.
Issues Presented
Whether the Court can order for the termination of pregnancy?
Whether the doctors advising or carrying out the termination are free from facing any litigation arising out of this petition?
Ratio of the High Court
The Court placed its reliance on the judgement of Murugan Nayakkar Vs. Union of India & Ors.1 wherein a minor aged 13 was raped and that resulted in pregnancy. The Supreme Court ordered for the termination of the pregnancy keeping in view the sexual abuse faced by her as well as the repercussions of such pregnancy on her and the child's health.
The High Court, considering the age of the girl and the physical and mental agony she is suffering at present and might suffer in future, deemed it fit to terminate the pregnancy.
The High Court addressed the issue of the liability of the Doctors advising this termination. It looked into the judgment of Shaikh Ayesha Khatoon Vs. Union of India and Others2, and held that the Doctors who are part of this procedure of termination of pregnancy shall have immunity in the occurrence of any litigation arising out of the order passed by this Court.
Decision Held
The High Court directed the respondents to immediately carry out the termination of pregnancy and admit the girl latest by March 20, 2020. Also, it directed the State of Madhya Pradesh to ensure post-operative care of the child.
The Doctors who are a part of this procedure shall have immunity in the occurrence of any litigation arising out of the order passed by this Court.
The appeal, therefore, was allowed.
---