---
This Article is written by KANAK BATHWAL; BA. LLB; 2nd Year
---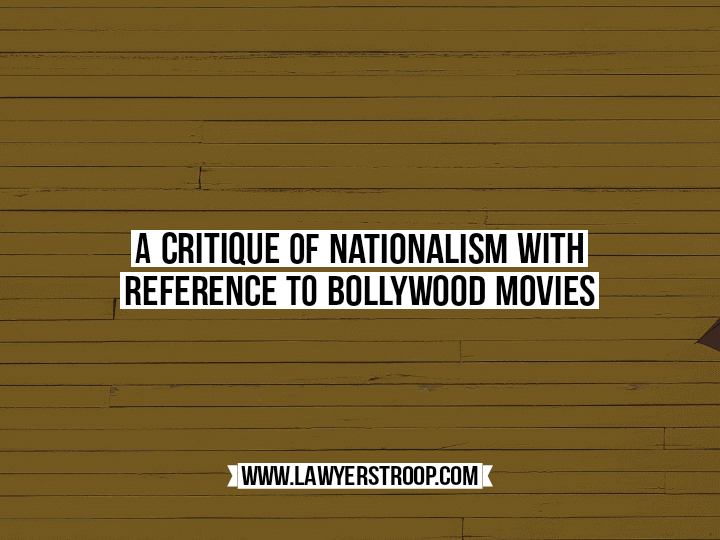 ---
Nationalism is a sense of common consciousness where people believe that their Nation is the most superior. It majorly emerges when people share a common background and/or have the same historical and cultural values. The feeling of Nationalism starts due to various reasons. For example: – In India, the press plays an important role in amplifying the nationalistic feelings among the people. They make the people aware, how other nations are developing socially as well as politically. So, as residents of India, how they can help in developing it, which also spreads nationalism.
Like the role played by the media in spreading Nationalism, movies too, play a very major role in it. Referring to three famous movies of the decade, namely – 'Uri: The Surgical Strike', 'Padmavat' and 'Raazi', I will compare how these have been in controversy and what could maybe be the actual reason for screening of such movies. The controversies before and after the release, shows the level of nationalistic feelings residing in almost half of the population of India.
The first movie – Uri: The Surgical Strike, 'it tells the story of the 11 tumultuous events over which the operation was carried out. Indian army special forces carry out a covert operation to avenge the killing of fellow army men at their base by a terrorist group'1. This movie contains many dialogues which can sow or increase the nationalistic sentiments in people watching the movie. One of them is 'Pakistan jis bhasha ko samajhta hai, ussi bhasha m samjhane ka usse waqt aa gaya hai'.
This particular dialogue in itself is enough to make one think that Pakistan is definitely wrong on its part, and India has to take revenge in the same way. The not-so-literate population of the country gets impacted by it in a huge proportion. They won't even think or research once if Pakistan was at fault or not (although in the recent scenario it was portrayed that it was), but would go with the flow, and would start making memes and passing derogatory remarks against it.
Another dialogue which can increase nationalist feelings was – "Ye naya hindustan hai, ye ghar me ghusega bhi aur marega bhi!"2. This clearly gives out the message to the audience that the new India is not weak that any other country would harm it and nothing in retaliation would be done. Any harm to the nation will be very seriously taken into consideration and will be given back with a solid punch.
But somewhere, somehow, India interpreted the meaning of a surgical strike in a bit of a wrong way. In layman terms surgical strike means taking revenge legally without minimal collateral harm. Pakistan Prime Minister Nawaz Sharif said that there is fabrication of truth3 from the side of India as Pakistan's soldiers also died and were injured too. Nawaz, in a press conference said that India is lying, and it was not a surgical strike, but cross-border firing instead. As India attacked in the LOC for the terrorists, but Pakistan also lost its military officials, so India would not be justified in saying that it was done in defence.
Uri, the movie was also in controversy, as other political parties except BJP, put allegations that the movie's release date, i.e., 11th January 2019 was fixed, to help the Modi government in 2019 elections. It would be used as their unique contribution for the nation, and the movie will help to reach out to the hearts of millions of people directly. Hence, the feelings of people towards the government were meant to be manipulated in a good way through this movie.
In the next movie Padmavat, we come across a topic called hyper-nationalism. 'The movie is set in medieval Rajasthan, Queen Padmavati is married to a noble king and they live in a prosperous fortress with their subjects until an ambitious Sultan hears of Padmavati's beauty and forms an obsessive love for the Queen of Mewar'4.
This movie was in huge controversy and was attacked by hyper-nationalists saying that it distorts history and a Rajput queen could never be in the way it was shown in the movie. At that time, actress Shabana Azmi in a panel discussion said that the situation in India regarding hyper-nationalism is very alarming. Giving critiques of the movie is okay, but Deepika Padukone (actress playing the role of the queen) receiving death threats is not fine at all.
Another example portraying hyper-nationalism can be seen when it was made compulsory in 2016 by an order of the Supreme Court, for the national anthem to be played before starting any movie in theatres. But this led to unbelievable events, like people who did not stand up during the anthem were termed as anti-nationals and were beaten black and blue by the right-wing Hindus.
There was an incident where a disabled woman was abused and assaulted because she remained seated in her wheelchair when the anthem was going on. What kind of extreme nationalistic feeling is this? What should it be termed? Which also violates the fundamental rights of others? There are several questions regarding it, but the victims most of the time do not want to indulge in such types of affairs.
The prime example of comparison between nations and showing that the feeling for one's own country should be at the top can be seen in the third and final movie 'Raazi'. 'This movie is of a Kashmiri woman who agrees to marry a Pakistani army officer in order to spy on Pakistan during the Indo-Pakistan War of 1971'5.
In international politics, no country should defame and morally harm others without any reasonable cause. In this movie we can see that one country using wrongful methods, sends a spy to another country, not only endangering the life of the spy but also lowering the retaliation standards. If India says that it would never be the one to initiate any war, it should also not use such immoral tactics to protect itself.
For adding fuel to the feelings of extreme nationalism, only three elements are enough. Those are – Dalits, Muslims and Pakistan. We in India are right now going through a semi- fascist rule, though not officially. We can see that 'Cows have become Bharat Mata. And all cow-eaters are anti-national. Under a gazette notification titled, Prevention of Cruelty to Animals (Regulation of Livestock Markets) Rules, 2017, all beef-eaters are being projected as' anti-national''6. In India cows are now just used as a tool for hyper-nationalists against Muslims and Dalits, and they will be put to death using the same again and again.
In the movie Raazi, it clearly shows that one should always be ready to sacrifice for the nation. In the movie we can see that the spy falls in love with the officer after marriage and towards the ending also gets scared and wants to abort the mission. In this mission the whole family of the spy was involved which reflects the feeling of nationalism in them. Pakistan was not at all given equal or even approximate to equal weightage in the movie.
Any layman seeing the movie would just feel that how much the Indian soldiers have done for the country and not if it was correct or incorrect. It just shows how India wanted to leak the secret information of Pakistan. Had it been done vice-versa, then it would have been for sure, termed as a cheap trick by Pakistan of leaking information and not fighting face to face as a real soldier.
In International Relations, nationalism means each nation should have self-determination and should govern its residents without hindrances. But this also caused World War I and World War II. So, we can say that nationalism has merits as well as demerits. On one hand if there is a threat to the nation, and if people are ready to offer help for it keeping in mind that no one else gets hurt emotionally or physically, then it's a good form of nationalism. But if people are ready to sacrifice anything for the nation, at any cost, then that is extreme or hyper-nationalism, which in the long run, is not good for the nation.

Nationalism can be termed as a unifying force, inspiring people to give themselves up if required for the nation. But it should consider mostly using soft power instead of hard power. It was also termed as 'an antidote to the poison of imperialism in India'7 But it is now being used in a wrong way as we read earlier.
People in a nation should always have nationalistic feeling, but if they do not follow any particular custom, practice or order, they cannot be called anti nationals for it. There might be any logical reason behind it. So, nationalism like any other political concept, is full of pros and cons, but it depends on the person on which side he would preferably see and follow.
---
Footnotes