---
This article is written by Henna Shah student of KES' Shri Jayantilal H. Patel Law College, Mumbai.
---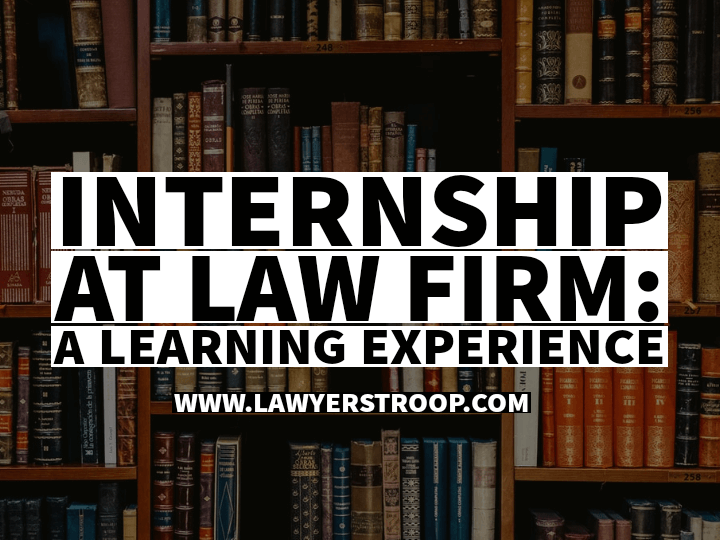 lawyerstroop.com
---
In order to acquire education, what is needed on the part of students is personal participation and transformation. Education cannot be given to anyone; it must be inwardly appropriated
are the words of Sir Nani Palkhivala.1 The noble profession of law is a continuous learning process; a lawyer is always a student. To make learning efficient, one must always make the most out of opportunities and hone their skills.
As students, we often live in comfortable cocoons of our university, unknown to maelstroms of the professional life. To bridge this gap, one must gain practical acumen and experience different areas of practice the profession offers, in order to avoid bewilderment after graduation.
While theory builds the foundation, practical knowledge builds the structure. Thus, every law student must be aware of how concepts are studied in law school and how they are interpreted in reality. The world after graduation expects an advocate to hold the capacity to think clearly and be eagle-eyed.
To be familiar with reality, one must start working on these abilities as a student. In this article, we shall examine how to approach law professionals and how to make the most out of an internship opportunity at Law firm. So let's get started!
How to Approach Law Professionals
Lawyers are busy professionals. One must approach them, keeping in mind to not waste their time; and to be short and crisp.
E-mail
Most law firms provide their E-mail ID on their website. If it is not, you can call them during standard business hours and request them to give you their E-mail ID to send your internship application.
LinkedIn
LinkedIn is a great platform to connect with professionals. If you don't have an account already then create one; and start connecting to lawyers. You can send them a polite message and your internship application.
College Placement Cell
Every college wants their students to excel. Ask your college's placement cell to set up an interview.
Government Bodies
Various government bodies have internship schemes for law students. You can visit their websites for more details. If you meet the eligibility criteria, submit your internship application.
One such body is The Institute Of Legislative Drafting and Research (ILDR) established as a wing of the Legislative Department, Ministry of Law and Justice offers voluntary internship scheme for law students pursuing their fourth and final year of the Five-Year course or final year of the Three-Year course from recognised law colleges in the country.2 Similarly, the Securities and Exchange Board of India (SEBI) also offers an internship program in the legal department for LLB and LLM students.3
The most important part of this process is your internship application. It must include two things: resume and cover letter. The resume must contain academic details; prior internships (if any); contact details and personal details like date of birth, address and languages you speak. All your details must be accurate. Never provide false information.
The cover letter must include what you learnt from your prior internships; what area of practice you want to learn; and how the law professional can help you achieve it.
Keep your application simple and aligned at all times. Don't decorate it with borders. Lawyers receive internship applications frequently, to stand out, be creative with words. Be polite and elegant simultaneously.
How to Make The Most of an Internship Opportunity
Once you have cleared the interview, you will enter the professional world. The atmosphere in a law office is different from classrooms. So, how do you make the most out of it?
Be Curious
Curiosity to learn new things is a great attitude and will help you ease the toughest of work your senior throws your way. It will make learning a fun experience.
Don't be afraid of reading
An internship at Law firm is all about learning. The first step to it is by reading. Briefs in a lawyer's office run into hundreds of pages. While researching for a case, you will be required to read bare acts, commentaries and judgments. Don't be afraid, look at it like you are adopting a new skill. With practice, you will learn to read between the lines in a few minutes. All eminent lawyers are good readers.
Observe
Observation is the second step to learning. Request your senior to take you to court. When you go to court, observe the people around you. The way the judge reacts to advocates arguing, how an advocate presents his/her submissions, a witness deposing and filings in the registry, all of it will help you work on your existing skills.
Read more briefs
In this profession nobody spoon-feeds an intern. You have to learn things by yourself. If you are sitting idle, ask your senior to give you a brief to read. When you read more briefs, you will expose yourself to new statutes and pleadings which are not a part of the law school syllabus. As students, we always look for shortcuts to do things. There are no shortcuts when it comes to reading a brief. Read everything; every document, pleading and order is vital to the case and your practical-study.
Precis Writing
Precis writing is a skill every law student must adopt. Every lawyer summarizes his/her brief on a single piece of paper. It is a skill acquired by practice.
Judgments referred
Most of us ignore the judgments referred to in the pleadings or orders of a case. These judgments are the most underappreciated facets of a brief. Read those judgments carefully; it will help your senior determine what strategy to adopt in the matter and widen your knowledge.
Research
Many times, an intern is asked to research for different points of law. Your research will help your senior in various things like advising his/her client, determining the jurisdiction of a court, drafting pleadings or oral submissions. Every person has a different style of research, but there are some key points which he/she must consider. They are as follows:
Determine which statute applies to the case.
Read the preamble of the Act.
Peruse the index of the bare act to determine which section applies to the case.
Rules/Regulations framed under the Act are equally important.
Read the commentary for the section/rule which applies to the case.
Always check if the judgment is overruled or affirmed by the higher court/bench.
Keep an eye out for amendments.
Peruse court rules and practise notes. It will help you understand the procedure.
Never refer to articles posted online; they are someone's opinion on the law.
Make notes
Ask your senior to give you feedback and jot down things you need to improve. You can maintain a diary of your daily work. It will help you analyse your progress.
I hope this article helps you in your journey as a law student to a successful practitioner. I wish you the best of luck with your endeavours.
Footnotes